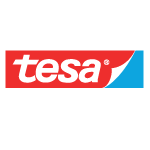 tesa SE is one of the world's leading manufacturers of self-adhesive products and systems solutions for industry, commerce and individual consumers. 125 years of industry experience and a continuous focus on innovation have led tesa® to the top of the global market.
More than 6000 products designed and manufactured by tesa® are sold in more than 100 countries. The company obtains more than three quarters of its total revenue from the sale of special system solutions to industrial customers and in many industries guarantees cost reductions, process optimization and, as a result, improvement of end-products.
Slightly less than a quarter of its total income tesa® gains from the sale of consumer products designed for everyday use in the office, at home and in the garden. In this area, tesa® helps its customers to decorate their surroundings according to individual taste, thus improving the quality of life without drilling and surface damage.
Groups of products:
office adhesive tapes
packaging tapes
tape dispensers
glues
correction instruments
self-adhesive pads
self-adhesive blisters
universal tapes
mounting tapes
repairing tapes
non-slip tapes
warning tapes