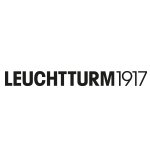 In today's world, in which we are surrounded by electronics and everything around is digitized, more and more often we miss the moment of respite and detachment from digitization even for a moment. Hand-written note, to-do list or note-taking is the perfect way to leave a computer, tablet and smartphone and simply relax. Leuchtturm 1917 realizes how valuable is the time spent offline, that's why it offers its users products of the highest quality, thanks to which this time is even more enjoyable.
Leuchtturm 1917 has over 100 years of experience in the paper industry. Company has been established in 1917 in Germany, in a small town nearby Hamburg. From the very beginning LT1917 pays a great attention to the highest quality, which – according to their conviction – is obtained through care for the smallest details. Notebooks, planners and other articles signed with the LT1917 logo, carried out with great care, are characterized by aesthetics, functionality, durability and reliability.
What distinguishes Leuchtturm 1917 products from the competition is the extraordinary workmanship. Many years of experience have allowed us to achieve a level of unsurpassed perfection in terms of aesthetics and functionality. A wide range of colours, elaborate smallest details and a large selection of formats make every user find a product tailored perfectly to his needs.
Product groups:
personal notebooks
bullet journal notebooks
notebooks in leather cover
business cards books
addressers
daily planners
week planners
monthly planners
academic planners
18-month planners
diaries
pencils
accessories