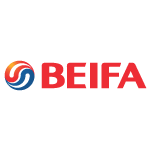 Starting in 1994, Ningbo Beifa Group is currently the strongest office representative in China, with the largest export and average increase in sales in the past 10 years at 50%. It also occupies the third place in the world in the manufacture of stationery. Beifa Company employs more than 2000 people in the biggest writing instruments' factory in the world. Company is involved in the research and development, production and sale of office and school products. Beifa's offer consists of thousands of articles – gel pens, automatic pens, tapers, highlighers, permanent and board markers, automatic pencils, multi-function pens, etc – sold to over 100 countries worldwide. They enjoy the still growing demand for their products, as their quality is definitely higher than the quality of similar products at the same price.
Beifa was the first Chinese entrepreneur in the industry that received ISO9001 quality certification. The company owns 6 foreign affiliates. They are located in: Russia, USA, Panama, United Arab Emirates, France and Spain.
Beifa products are branded within the APLUS + and WMZ series.
The WMZ series includes student products that will allow every young person to find the most essential tools for trouble-free working in school, to fulfill school duties, and to develop their interests.
The APLUS + series includes office line products that allow the environment in the company to be as attractive as possible, allowing for the most complete office equipment in the stationery, but not only.
Group of products:
pens
paints and paint brushes
glues
chalks and coloured pencils
ink pens
fibre pens and textmarkers
paper clips, push pins, board magnets