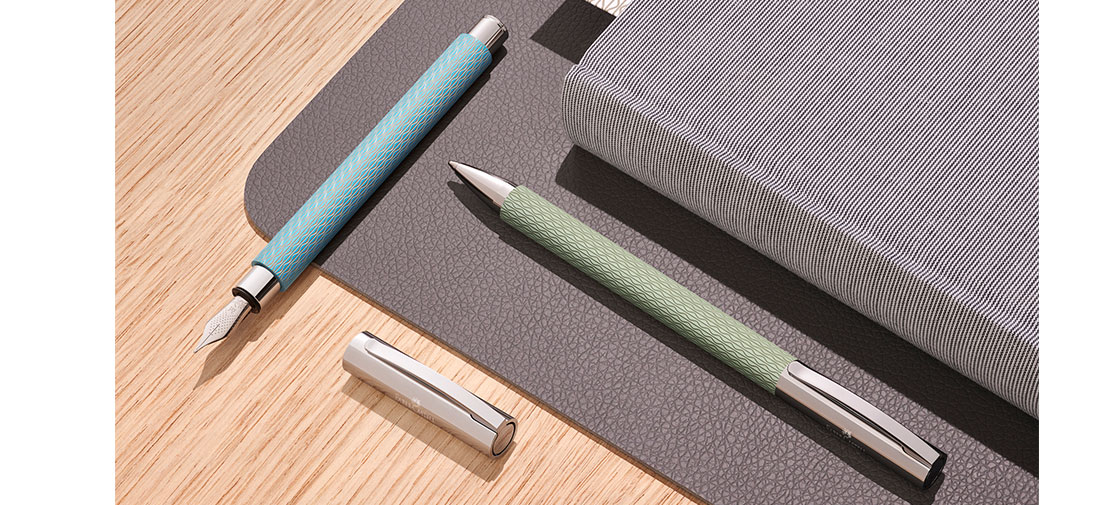 Even though they're not yet apparent in nature, we've already spotted the harbingers of spring in the world of fashion. The new inspiration looks of the fashion bloggers show that soft, ice-cream colours are again popular this season, and are already making us yearn for the first warm rays of the sun and all manner of new styles.
Faber-Castell is bringing this trend into the office, with ballpoint pens and fountain pens in the Ambition OpArt Collection now available in delicate Mint Green and vibrant Sky Blue – bringing a pure freshness boost to all writing desks! The pastel tones really come into their own thanks to the special optical effect on the barrel: the ornamental pattern pays homage to Optical Art, a distinctive art form from the sixties. The fine lines of the guilloché pattern are in pale grey in the Mint Green pens, and soft orange in the Sky Blue version. The chrome-plated metal front and end pieces lend a streamlined appearance.
The ballpoint pen operates with a twist mechanism, which enables the black, large-capacity cartridge with line width B to be extended and retracted. The fountain pen is equipped with a high-quality, stainless-steel nib. The spring-loaded metal clip on the cap ensures that the pen is firmly held on a day planner or writing case.