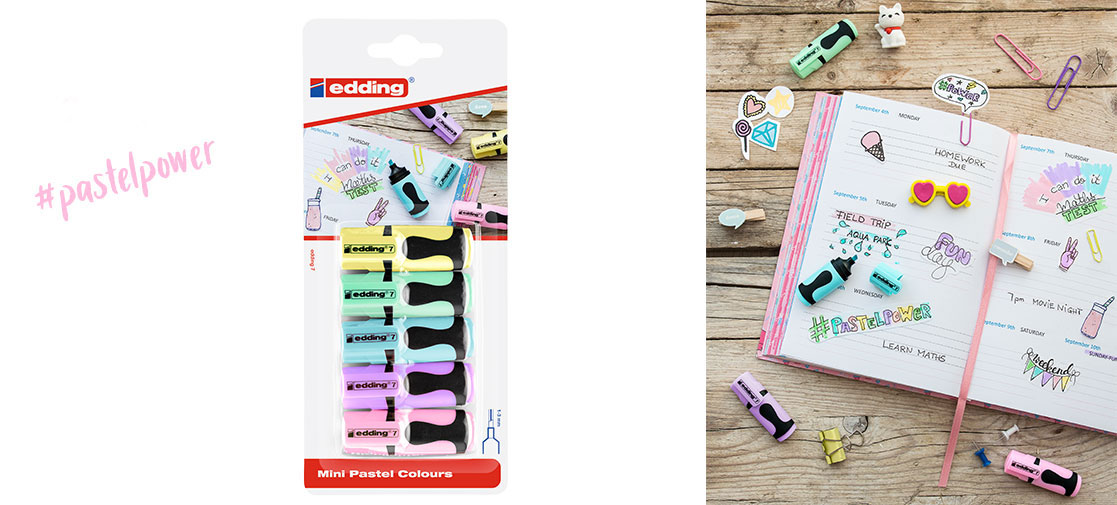 From November, the popular edding 7 mini highlighter will be making its mark in new, soft tones. Teenagers, students and craft enthusiasts alike will not only be wowed by the five delicate new pastels, but can also look forward to totally new ways of being creative.    
Conveying a sense of lightness and well-being, soft ice-cream shades are highly popular – and not just in the worlds of fashion and interior design. It's now hard to imagine any student or crafter without these feel-good hues to hand. First, it was the pastel power of the edding 1200 colour pens that took pencil cases by storm. This was followed by the launch of gloss paint markers in fresh pastel shades, meaning that even the most challenging of surfaces could be decorated. Now, from this autumn, edding mini highlighters will be bringing another breath of fresh air to desks and craft tables alike.
Mini highlighters for maximum fun
The pastel tones of the edding 7 mini pastel colours make a refreshing change from the usual neon shades of highlighter. They add fun and a touch of pizzazz to any teenager's pencil case, and are small enough to fit several inside. With its non-slip, ergonomic grip, this handy, petite pen makes writing pleasantly comfortable and is available in five subtle shades reminiscent of soft smoothies or pretty candyfloss: pastel yellow, pastel pink, pastel blue, pastel green and pastel lilac. The compact set of 4 includes a choice of four different colours except pastel yellow. It fits perfectly into the smallest of pockets, so is always close at hand should you need to quickly highlight a sketch or decorate your notes. If you can't do without the full complement of colours, however, there's the option of the blister pack which contains all five pastel shades. And, just as you would expect from edding, each colour is also available individually.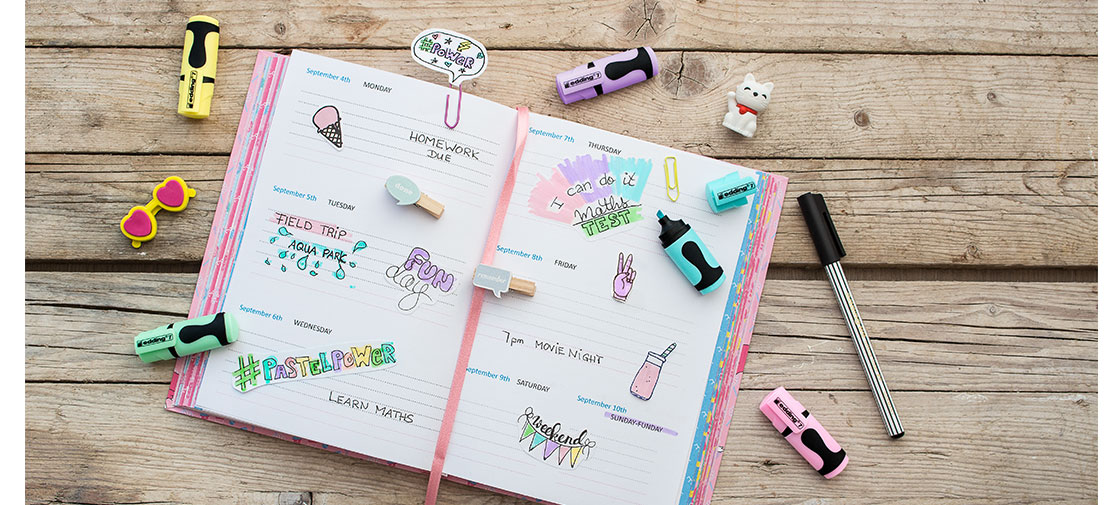 Inspirational ideas
Whether you're writing a bullet journal, a calendar entry, a passage of text or a letter to your loved one, with the new pastel shades you can draw, highlight and underline to your heart's content. To make a statement, you don't always need bold, neon colours. These subtle shades look fabulous on paper, giving pastel lovers an easy outlet for their creative side.