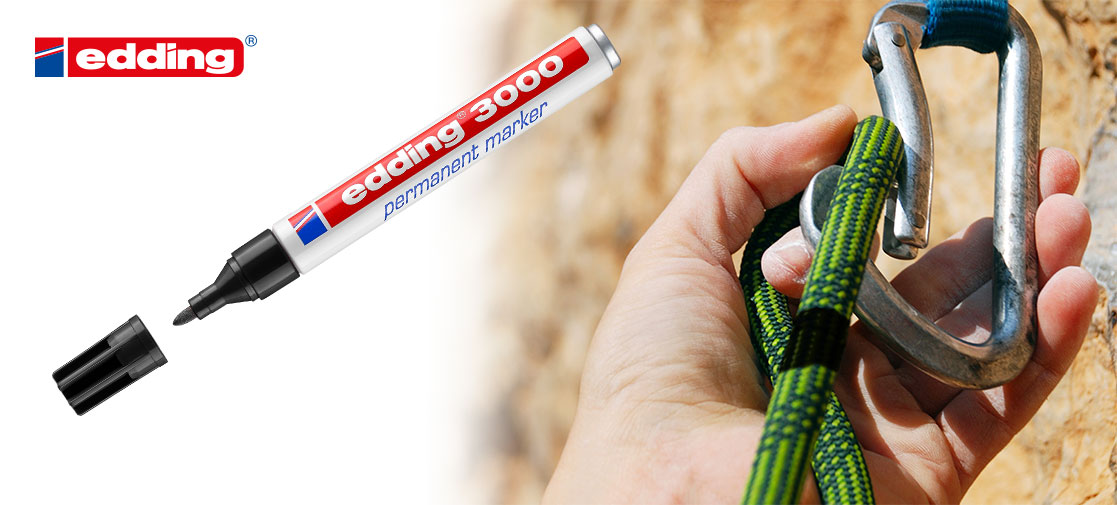 What a permanent marker can contribute to mountain climbing
Mountain climbing is a thrilling sport that attracts more and more enthusiasts these days, even far beyond the world's mountain regions. Anyone who has ever taken on the climbing wall on a children's playground can surely imagine: Mountain climbing is extremely challenging – both mentally and physically. Professional training, high self-awareness and quality gear are crucial for the safety and success of any mountain climbing trip.
Setting benchmarks and safety marks
In mountain climbing, the practice of marking plays an important role. Marking one's arrival at the peak has always been a mandatory thing to do. While the pioneers may have put up a flag or cross on a newly conquered mountain top, those who follow today might leave their mark by taking and sharing a selfie photo. Another essential type of marking, however, begins further down the mountain …
At 3,000 metres altitude, only the black edding 3000 will do
When conquering breath-taking heights, the condition of the ropes is of utmost importance. Therefore, the German Alpine Association recommends that all mountain climbers mark the midpoint of the rope with no other pen than a black edding 3000 permanent marker. That way, the climber can make sure he'll always have long enough rope at hand.
This permanent marker endorsement is based on the fact that eddings ink does not damage the structural integrity of the ropes. Another edding-specific benefit is the outstanding opacity and longevity of marks made with edding permanent markers. At 3,000 metres, there is no room for compromise – any mistake can be fatal. Or, to speak in more positive terms: Unmistakable clarity can literally safe lives up there.