Even though, the calendar winter is still going on, we can already feel the first blasts of spring in the air. The first visible sign is the apparently lengthening day – sun rises up earlier, and goes down later than it was even one month ago. In comparison to the shortest day in the year (21/12) it is almost one hour longer!
With the arrival of spring, we often take care of home and around house cleaning. We pack winter clothing into the boxes which we seal and hide in the attic, we clean and maintain the rubber elements in all kinds of equipment left for the winter in front of the house. Under the influence of frost and bad weather conditions, objects that have remained outside may be destroyed, but this doesn't mean that we cannot save them! Below we present some ideas for using our brands when organizing your home.
Have you ever faced with the situation that the box that you packed your belongings with fell apart during the transportation because the adhesive tape could not withstand? With the tesapack Solvent standard packaging tape this problem will not happen again! The carrier is made of durable polypropylene, while the adhesive is based on natural rubber. The tapes are available in brown and transparent colors, and the dedicated tesa dispensers (standard, economy, classic or comfort) make it very easy to apply them.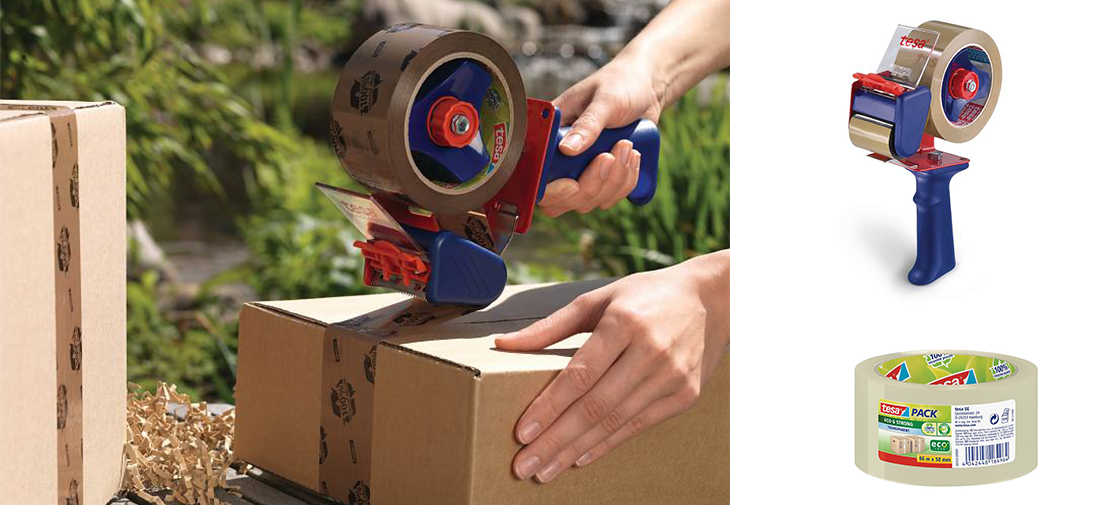 Describing cartons with edding permanent markers 300/330/390/400/850 / 2000C
Once we pack winter clothes or Christmas decorations into the boxes and seal them tightly, it is worth to describe them so that after some time you can easily identify their contents without opening. Here, edding permanent markers will come in handy. In easy and durable way you'll mark the cartons and other surfaces, such as plastic containers, wooden crates or plastic bags.
Protection and maintenance of rubber elements? – only with the edding 8150 marker
The materials made of rubber exposed to extreme temperatures (low in winter and high in summer) can be destroyed – they start to crack or crumble. To protect different types of seals or pads, it is worth using a marker edding 8150 with silicone oil, which in a practical and reliable way will help get rid of the problem of parrying rubber. A convenient application will let you do it in the blink of an eye.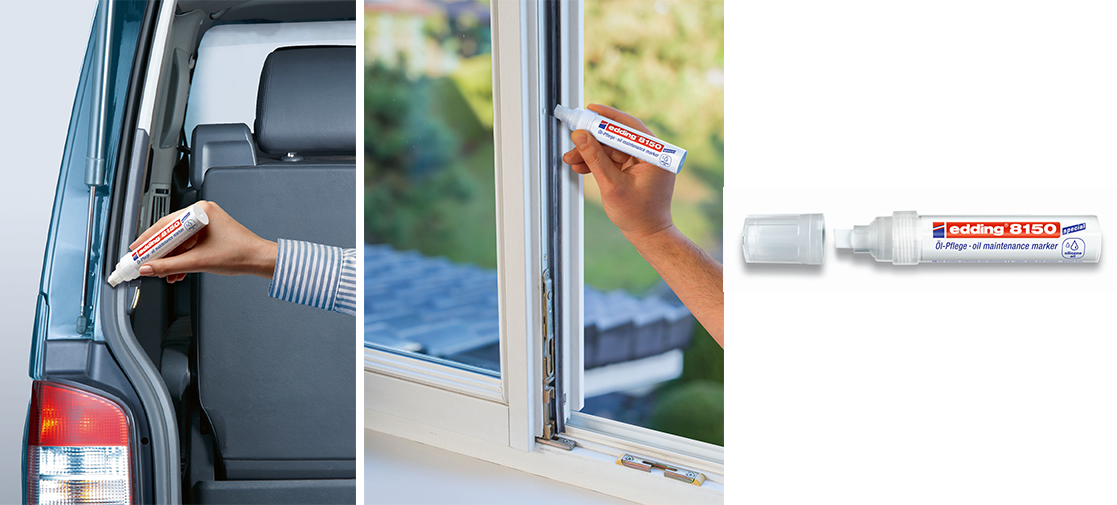 Change your tyres  – with edding 8050
Spring is also the time of changing tires from winter to summer set. Right front, left front, right back, left back – it's worth to mark your wheels to avoid confusing the order while changing them. The edding 8050 marker is a perfect choice for this purpose. Its durable white ink will visibly help you identify tires and other rubber objects.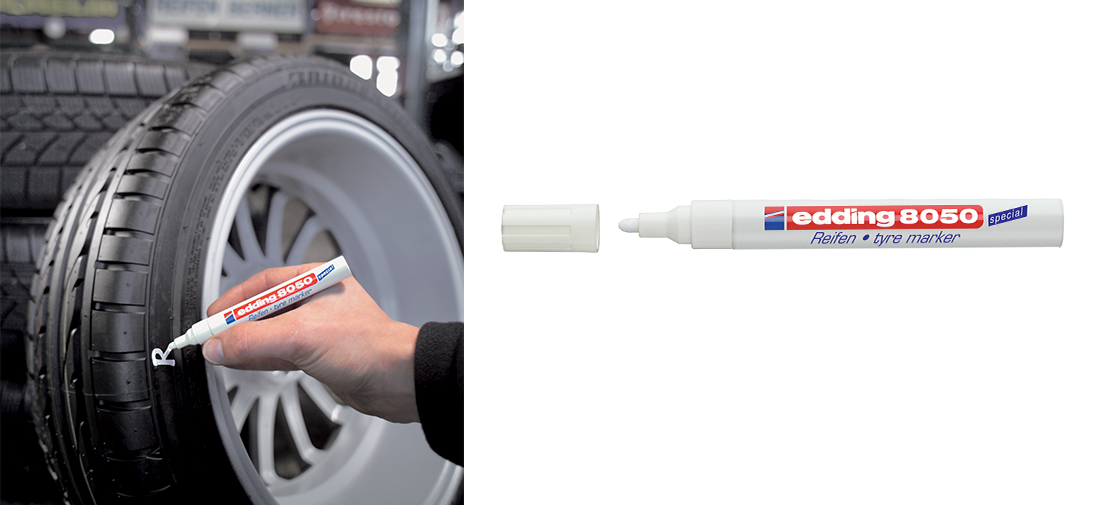 Decorate old items with edding oil markers
Have you ever wondered how to blow the new spirit into the old stuff? – By adding a few patterns and decorations you can change objects beyond the recognition or give them the totally new applications. For example, a flower pot that has been standing on the window sill for many years and has already laid on us, or an old tray or even wellies? With edding oil markers, in just a few minutes you will get rid of your oldies turning them into completely new, beautiful objects of everyday use. Garden table, old bicycle, flower pot, watering can – these are just some of the ideas, because the possibilities are endless! High quality ink with properties similar to oil paint is characterized by high resistance to water, light and abrasion, works well on almost all surfaces – both smooth and porous ones. An additional advantage is the availability of a wide range of colours and tips.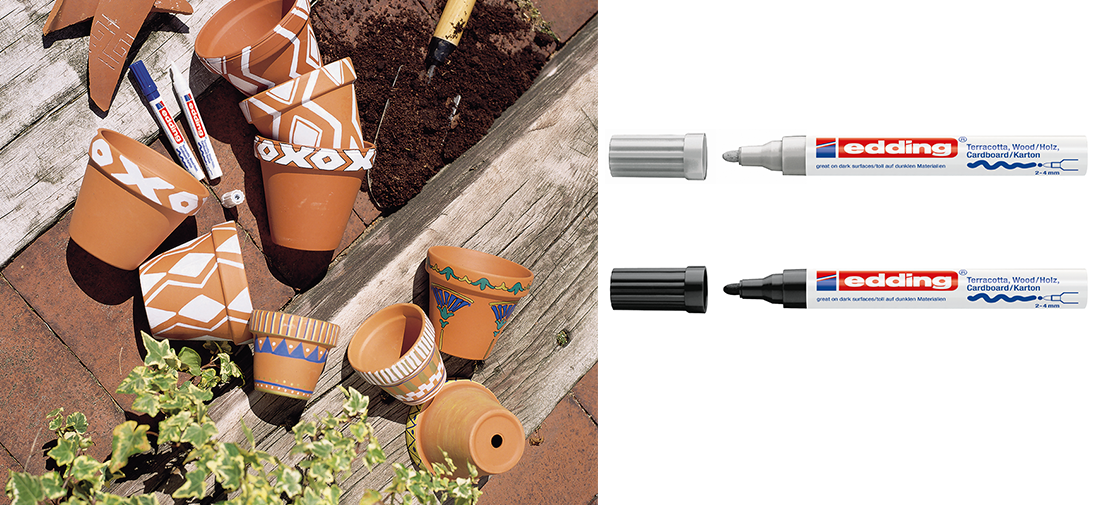 Universal household scissors – especially from Dahle
An absolute must-have in every household are the solid and durable scissors which are suitable for cutting not only paper, but also cardboard, strings and other materials. Dahle 54638-12976 universal scissors are definitely the best choice. Blades are made of high quality stainless steel with a hardness of 54 degrees on the Rockwell scale. The handles are made of non-cracked ABS plastic, and a practical steel nutcracker is built inside. In the blade there is an additional bottle opener.

We are waiting for the spring time impatiently, and you?